We got a free voucher for two view level tickets from a new friend so we were off to the
ball park for the first game of a five game series against the Cubbies…


You can't beat free seats…


With it looking like Joey Votto was destined for another stint on tonight's first baseman,
Jay Bruuuuuuuuuuuuuuuuuuuuuuuuuuuuce…


Congratulations to first time All-Star Devin Mesoraco…


And there he is, Jay Bruce getting his first professional start at first base…


And Mike Leake was on the hill for the Reds…


Rain was in the forecast…


Then the heavens opened up…


And everyone ran for cover…


Twenty minutes later, the ground crew was taking the tarp off the field…


BARGE!


The Cubs Starlin Castro…


And then something spectacular started to happen with the sky…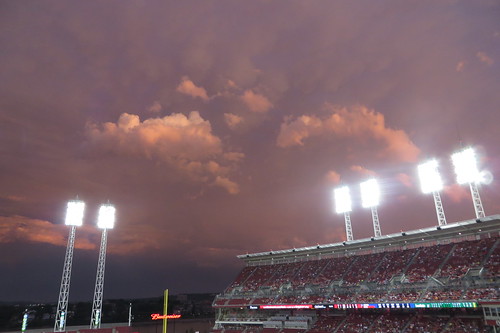 The wind was really whipping through the ball park tonight. And it got pretty chilly. So we
decided to head for home to watch the end of the game with the Reds leading 3-1…


And the Reds would go to win 9-3!


We're now 9-8 at Reds games we've been to this season! 🙂