IT'S MATCH DAY! And if you thought there was a buzz around FC Cincinnati playing Columbus Crew at Nippert Stadium, prepare to get your mind blown. US Open Cup Round of 16. FC Cincinnati versus Chicago Fire. Live from Nippert Stadium. There was soooo much hype around this match…
Yesterday, US Soccer declared Cincinnati, Ohio: Soccer City USA. There was also a scheduling change. The match was pushed back from 7:30pm to 8pm to accommodate television schedules. FC Cincy matches are usually streamed on YouTube and broadcast locally. This match was first set to broadcast on ESPN2. But then it was moved to ESPN. This marked the first time a US Open Cup match outside of the semifinal or final had been televised on an ESPN network. And… FC Cincinnati was the first USL team to be featured on ESPN since the Rochester Rhinos lifted the cup in the 1999 Open Cup Final. Leading up to the match, not so subtle hints were dropped that ticket sales surpassed those of the Columbus Crew match, that all the tarps covering seats in Nippert Stadium had been removed to accommodate the crowd because this was going to be one of the BIG ones. Even SBNation's daily soccer email newsletter, Backheel Breakfast made note of tonight's match at Nippert Stadium…
When I got home off the bus, I switched backpacks, grabbed our tickets, we hopped in our Uber and we were off to one of the most highly anticipated matches of this soccer season…
We got to Nippert super extra early just in case there were silly, massive crowds or ridiculously long lines…
But we got there so early that I think we beat most everyone to the stadium…
Up there was the ESPN MLS video truck…
A mere seventy minutes before kick-off. That was cutting it kinda close. 😜🙃
And it sounded like it was going to be a gorgeous night for soccer…
We even beat FC|C to the pitch…
There's Bastian Schweinsteiger. He's the former captain of the German National Team and the fourth most-capped German player of all time. Before joining Chicago Fire at the beginning of the season, he used to play for Bayern Munich and then Manchester United. And now he's at Nippert Stadium…
I didn't know this until after the match but Chicago Fire has lifted the US Open Cup four times and been runners-up twice. The most of any MLS team.
Here comes the march of the supporters groups into The Bailey…
There were a fair number of Chicago Fire supporters who came out to the match…
That guy on the right held his two-sticks backward for most of the pregame…
O say can you see…
Cool tifo for today's match…
Cincinnati, Here We Go!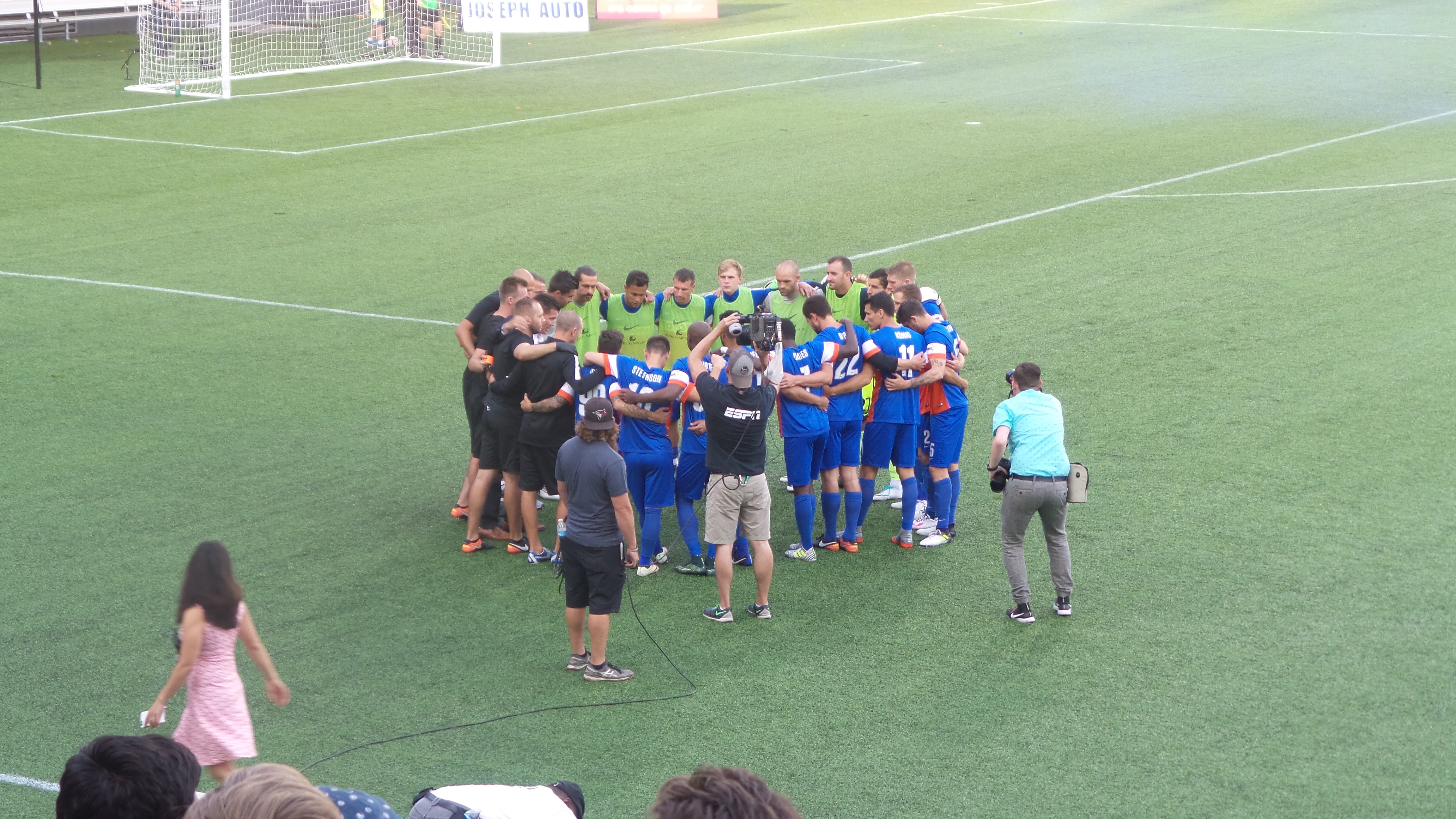 Here we go…
Sooo many people…
Both teams had more than a few good chances but neither team could capitalize on their opportunities, and the score was 0-0 at the half. And we were pretty happy with that. Chicago Fire really came out on er… um, fire. They really took the game to FC|C in the beginning of the match but the orange and blue stood their ground. Eventually, FC Cincy got more of the ball and created some really good chances…
SPRINKLES!
It was another beautiful night for a soccer match indeed…
Here we go. The second half is underway…
The second largest crowd to ever watch a US Open Cup match. The largest crowd was 35,615 set by the Seattle Sounders in the 2011 US Open Cup final.
One unfortunate Chicago Fire fan was going to spend the night at Justice Center…
Three minutes of time added on…
Chicago Fire's goalkeeper made a couple of spectacular saves near the end of the ninety minutes of regulation…
This one's going into overtime…
Ninety minutes wasn't enough time to decide this one, EXTRA SOCCER!
Two fifteen minute halves coming up…
Still scoreless after the first half of extra time…
GOAL! FC CINCINNATI!
But it was called back for offsides. Even though it wasn't offsides.
FULL TIME! And still no goals. We're going to a penalty kick shootout…
FC CINCINNATI WON THE SHOOTOUT 3-1!
Here's the complete shootout as we saw it from our seats…
This match tops the Columbus Crew match but not by much. I put this night right next to being at GABP when Todd Frazier won the Home Run Derby. NUTS. Just nuts. A raw outpouring of emotion and pride for your city and your team. And there really aren't words. After the match was over and after the smoke had cleared, Genifer and I were standing on our seats, looking around, mouths hanging open and all we could muster was, "WOW!" I didn't want to leave because I was afraid I might wake up for this incredible dream I was having. Only it wasn't a dream. This was really happening.
It was simply unbelievable. There really aren't words.
Eventually, we managed to finally pull ourselves away and head for home…
4 wins, 2 wins vs rivals, 2 wins vs MLS clubs and about 80,000 fans in 4 US Open Cup home games. Orange and Blue Press had their Four Numbers That Mattered.
I found this one to be pretty incredible…
499 – Number of minutes since the last time FC Cincinnati conceded a goal in U.S. Open Cup play. Ever since the 11th minute in the loss at Tampa Bay June 1st of last year, the combination of Hildebrandt and backup Dallas Jaye have completely shut down the opposition over the four games this year (three 1-0 wins and the 0-0 result vs. Chicago). All of Hildebrandt's 10 saves came in the second half and extra time, not including those stellar three blocks in PK time.
SBNation posted this article with the headline and subhead of…
FC Cincinnati shows there is no limit to what American soccer can become
On Wednesday night, over 32,000 people showed up to watch a minor-league team play in a scarcely covered secondary competition. It was incredible.
And there was this article by Forbes. I'm sure there were a million others, all making note of what is going on here and what took place tonight just like Taylor Twellman and Alexis Lalas. Not surprisingly, one of them was ESPN's Sportscenter…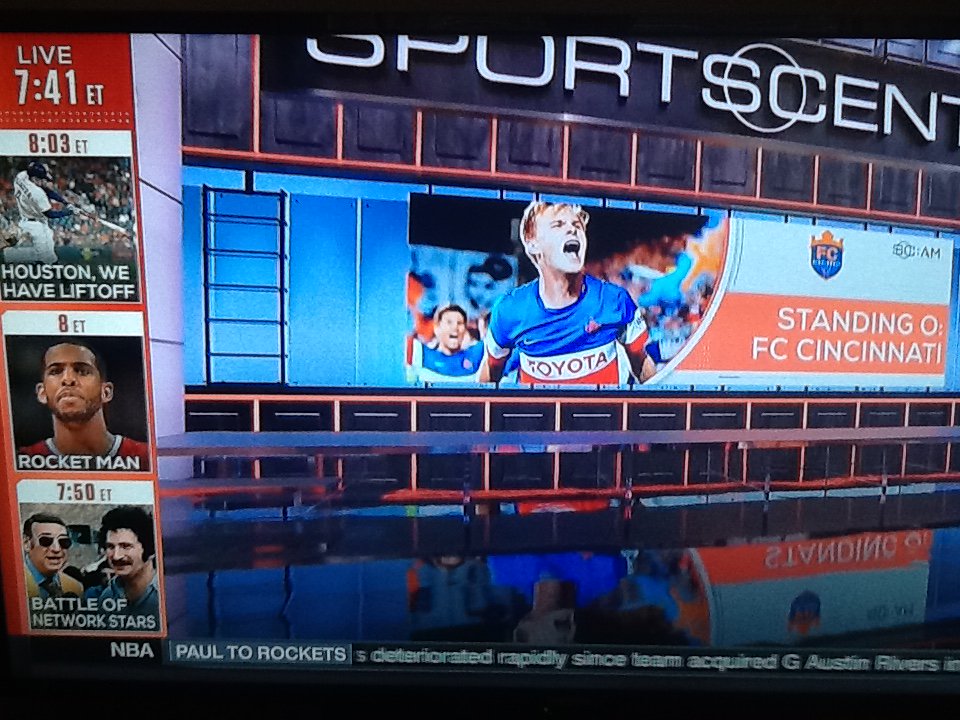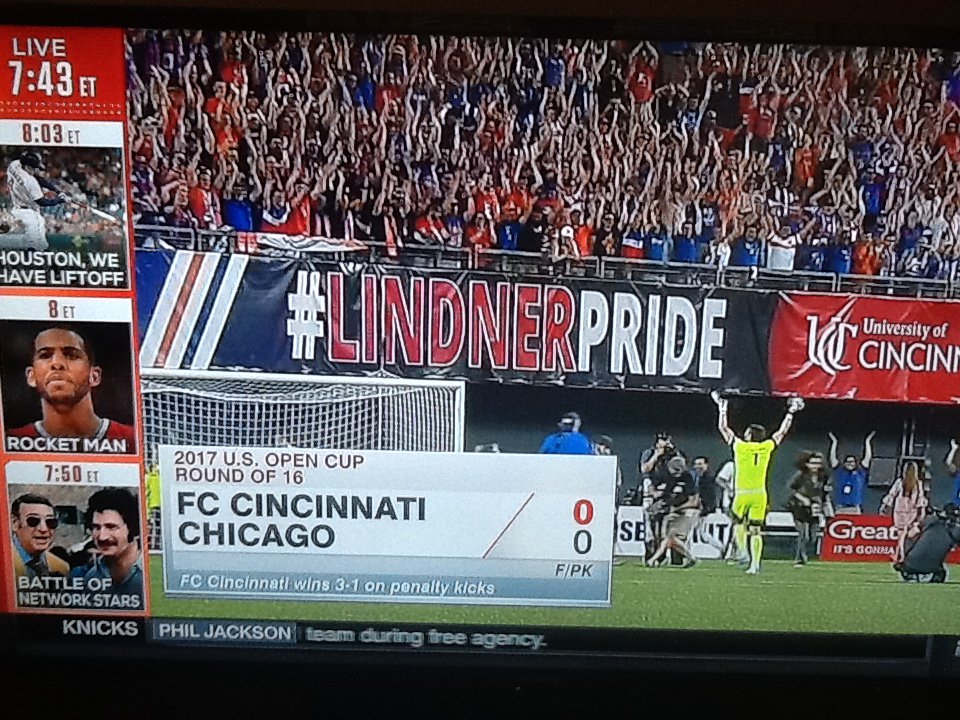 What a night! There is something special happening in Cincinnati. And we're beyond thrilled to have a front row seat. 😀😂🤣⚽️🔥🏆❤️
UPDATE: Next up for FC Cincinnati in their amazing US Open Cup run…