All posts tagged Cincinnati
Good morning from Northside. Hopefully, today won't be as rainy as yesterday. Taken with Instagram. 😀🌄❤️
Posted by Thadd F. on September 6, 2018
https://tplusg.com/2018/09/06/good-morning-from-northside-62/
Happy National Cheese Pizza Day! We devoured this cheese pizza from NYPD. It was delicious. Taken with Instagram. 😀🍕😍❤️
Posted by Thadd F. on September 5, 2018
https://tplusg.com/2018/09/05/happy-national-cheese-pizza-day-2/
I captured this timelapse of thunderstorms forming over downtown Cincinnati. And once they moved in, they stayed for the rest of the night…
It was such a stormy night. Taken with Instagram. 😀☁️🌧️❤️
Posted by Thadd F. on September 5, 2018
https://tplusg.com/2018/09/05/thunderstorms-6/
When we were up in Michigan, my parents had these peanut filled pretzels that world out of this world delicious. When we were at the grocery today, look what we found…
We didn't get any of these big containers. But I got a little bag of both the peanut butter filled pretzels and the mini peanut butter filled pretzels. And they disappeared pretty quickly. Because they were delicious. 😀🥨❤️
Posted by Thadd F. on September 3, 2018
https://tplusg.com/2018/09/03/look-what-we-found/
I don't know that I mentioned it before but I played some Fantasy Baseball this season…
I had five teams competing in ESPN head-to-head points leagues. Of the five teams, four ended the regular season as the division winner in either first or second place overall…
My fifth team ended in dead last place. ¯\_(ツ)_/¯ I also have one other fantasy baseball team that I accidentally entered into a rotisserie points league…
I spent most of the season in fifth place but recently I've been consistently hanging out in third place. After playing the entire season of fantasy baseball in this rotisserie league, I still no earthly idea how the scoring works.
My four head-to-head points teams are headed to the playoffs to compete for their respective championships. Fantasy baseball is pretty fun. 😀⚾️🏆❤️
Posted by Thadd F. on September 3, 2018
https://tplusg.com/2018/09/03/fantasy-baseball-2018/
This evening we were invited to our friend Robert's house in Mount Adams to watch the annual big Labor Day fireworks spectacular. Even when we lived downtown, we usually didn't bother with the Labor Day fireworks because it's just a mess of people and traffic. But we were invited and a bunch of our friends were all going so what the heck. He had an incredible view of downtown and the Ohio Riverfront from his patio, perfect for watching the fireworks. It was definitely the best view we've had for watching these fireworks. We had a very colorful Uber ride to Mount Adams…
I was messing around with the LapseIt app again during the fireworks…
I also took a video of the entire spectacular fireworks display with my Polaroid CUBE+. That video ended up being just under a half hour long, and there was a lot of chit-chat in the background. So I sped up the video and condensed it to just five minutes and cut out all the sound…
I also captured a couple of slow-motion photos that I posted straight to my Instagram. After the fireworks, there was beer pong…
And there was some flip cup…
I've never really played a whole bunch of drinking games. It's a fact that people find somewhat shocking. When I was younger, we would just go out and get drinks. We didn't play games. We'd just get drinks. Drinking games always seemed pretty silly. What's not silly was the view of downtown from Rob's place…
Everyone headed out to bar hop in Mount Adams, and we hopped in an Uber to head back to Northside. It was a really fun night. 😀🎆❤️
Posted by Thadd F. on September 2, 2018
https://tplusg.com/2018/09/02/labor-day-fireworks/
This morning we went to pick up our groceries from Kroger via ClickList (quite possibly one of the greatest inventions ever) and afterward, we stopped to get at Dunkin to get some breakfast foodstuffs…
On our way back home driving down Hamilton Avenue, Genifer spotted a turtle on the center line trying to cross Hamilton Avenue. I had her pull over to the side of the road and I ran back to pick up the turtle so had didn't get smooshed by a car or bus…
We were pretty shocked that he made it to the center line without getting run over. I hopped back in our car with the turtle, and Genifer immediately named him Frank. We took Frank down Hamilton Avenue to Parker Woods. There is a little marshy area that we thought a turtle would find to be turtle paradise…
As soon as we set him down on the edge of the path, he immediately started booking it into the dense underbrush…
We hope Frank likes his new home. 😀🐢❤️
Posted by Thadd F. on September 2, 2018
https://tplusg.com/2018/09/02/we-saved-frank-the-turtle/
IT'S FC CINCINNATI MATCH DAY FIFTEEN! Our first place FC Cincinnati was taking on third place Pittsburgh Riverhounds. We stopped at Mac's Pizza Pub before the match. We always do. They have a gameday special with a small two-topping pizza for just $5. And their pizza is delicious…
And then it's onto Nippert Stadium…
I took most of these photos with my new Samsung Galaxy Note9. The others I took with my Polaroid CUBE+. I've been pretty impressed with the Note9 as a phone and the phone's camera overall is pretty outstanding. But it definitely doesn't zoom capabilities of my old Samsung Galaxy S camera. It has the best zoom I've ever seen. When you zoom with the Note9, the photos start to get a little fuzzy…
Oh well. HERE WE GO…
At the half, the match was still knotted at 0-0. That meant it was time for… SPRINKLES!!!
And we're back underway…
Pittsburgh jumped out to 1-0 lead…
GOAL! FC CINCINNATI! FC Cincinnati leveled the match at 1-1. Manu found Dekel Keinan's head off a free kick to tie the game…
And then FC Cincinnati's first MLS designated player signing, Fanendo Adi gave FC|C a 2-1 lead with his first goal for the club. And after scoring he ran straight to FC Cincy head coach, Alan Koch to pick him up with a huge bear hug…
Adi scoring his first goal and running to hug Coach Koch will definitely be one of the most memorable moments of this season for me. I keep missing the match attendance but I saw afterward that there were 25,735 at tonight's match…
The match ended 2-1 with FC|C extending their undefeated streak to 16 games…
With the win, FC Cincinnati clinched a spot in the USL Playoffs…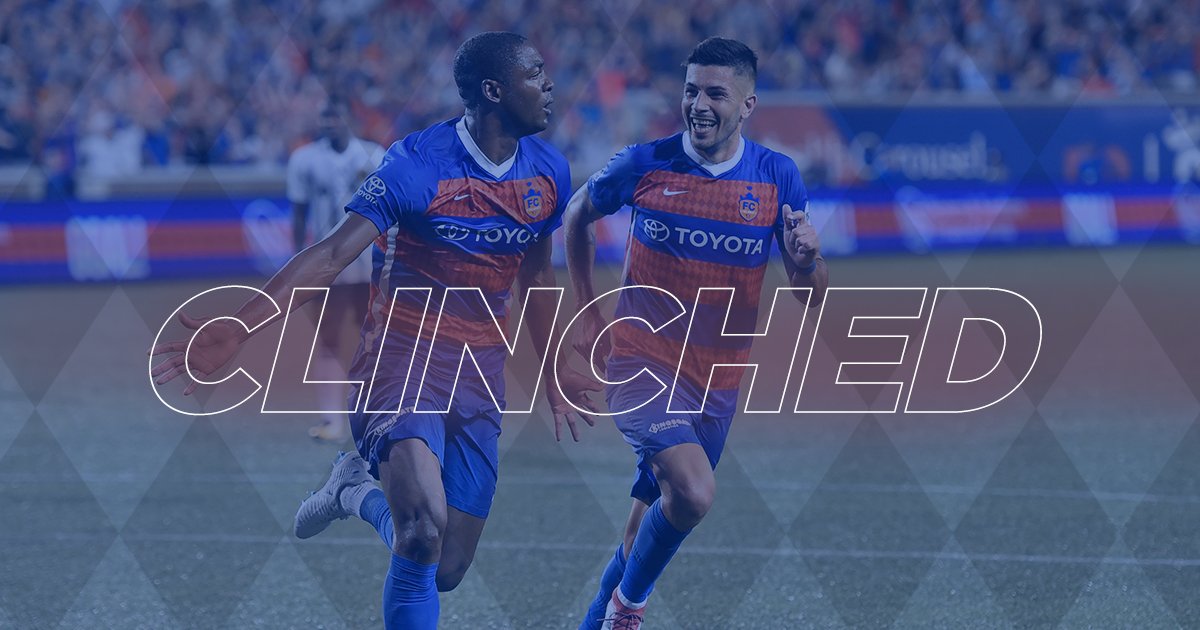 FC|C is the first team this season to clinch a spot in the postseason. After the match, we grabbed at Uber to Higher Gravity to celebrate the win with a beer and a slice of pizza and some No-no BBQ Wings from Northside's Chameleon Pizza…
You can't beat that for a Saturday evening, an FC|C comeback win, clinching a spot in the playoffs and two different types of pizza. It was a good day. 😀🍕⚽️🍕❤️
At some point, I'd like to go watch a Pittsburgh Riverhounds home match. Their stadium seems really unique. It's right on the river and in between the stadium and their river are train tracks. We've watched FC|C play away to Riverhounds and you'll be watching the match and then a train will come speeding by seemingly out of nowhere. I'm also hoping that they have a hot dog called the Riverdog. Because if they don't it's really a missed opportunity. maybe next summer, we'll be able to take a road trip to Pittsburgh.
Posted by Thadd F. on September 1, 2018
https://tplusg.com/2018/09/01/fc-cincinnati-versus-pittsburgh-riverhounds-4/
Food no good reason, we were up and moving early this morning. So we decided to go have breakfast at Blue Jay…
We love Blue Jay so much. Their food is really outstanding and you can eat like a king for so cheap. 😀🥞❤️
Posted by Thadd F. on September 1, 2018
https://tplusg.com/2018/09/01/breakfast-at-blue-jay-2/
For the first time, Swarm sent me a monthly recap. According to the recap, I checked in a rather ominous 666 times in the month of August…
Posted by Thadd F. on September 1, 2018
https://tplusg.com/2018/09/01/my-swarm-august-recap/
Search T+G

Thadd+Genifer

T+G Calendar of posts

T+G by Category

T+G by Month

Flickr Photos

Thadd's Instagram

FOLLOW THADD

Genifer's Instagram

FOLLOW GENIFER

Oscar's Instagram

T+G Home

Thadd+Friends

Music stuck in my head

Dealspotr

Statcounter