All posts in category #FALLinCINCY
Bowen Street in downtown Cincinnati. 😀🌆❤️
Posted by Thadd F. on December 13, 2017
https://tplusg.com/2017/12/13/downtown-details-31/
This afternoon we walked down Hamilton Avenue to go check out the FC Cincinnati Fan Appreciation Tour which was making a stop at Second Place…
We thought there would be a representative on-hand promoting or representing the club. Maybe trying to sign people up for season tickets, answering questions about FC Cincy's possible promotion to MLS or the latest on FC|C's plans for a soccer-specific stadium or even just shaking some hands. Maybe if we were really lucky, there'd be a player or two on-hand. But nothing. The FC Cincinnati Far Appreciation Tour meant you could get a Moerlein FC Cincinnati Blood Orange IPA just $3 from 11am to 2pm. That's it. Boy, do I feel appreciated. 😶 It was also the Manchester Derby: City versus United so Second Place was pretty crowded what with it being the Cincinnati hub of all things City and all…
We've watched a couple of big Manchester City matches at Second Place. There's this one guy who's a City supporter who is very vocal and very loud and his voice is so annoying that it makes it really difficult for me to watch City matches at Second Place. I'm just happy Second Place isn't an Arsenal supporters hang out. Because that guy… whoa. Don't get me wrong, I really love Second Place just not during Manchester City matches. But that's just me.
We stayed until just before halftime and then broke camp to watch the second half at Higher Gravity. And in walking the block from Second Place to Higher Gravity, we missed two goals. The first forty-plus minutes, nothing. The last three minutes of the half, two goals. It figures. We watched City knock off United 2-1. Higher Gravity still had Founders Canadian Breakfast Stout on tap…
That beer was pretty amazing. We hung out and watched the Bengals get thumped by the Bears and then just came home. It was yet another really fun afternoon in Northside. 😀⚽️🍺🏈❤️
Posted by Thadd F. on December 10, 2017
https://tplusg.com/2017/12/10/northside-sunday-5/
We received our first dusting of snow today, and this evening we took Oscar out for a walk in the cold white stuff…
Brr. 😀❄️❤️
Posted by Thadd F. on December 9, 2017
https://tplusg.com/2017/12/09/our-first-snow/
Tonight, we hopped in an Uber and headed up into Mount Adams to Chapter for this year's Deskey Holiday Party…
It's been ages since we were last in Mount Adams...
For whatever reason, I always sort of dread holiday parties, But I always end up having a really good time. And this party was no exception. It was a very good time. After the party was over, we went across the street to check out the newest 4EG bar, Hightail…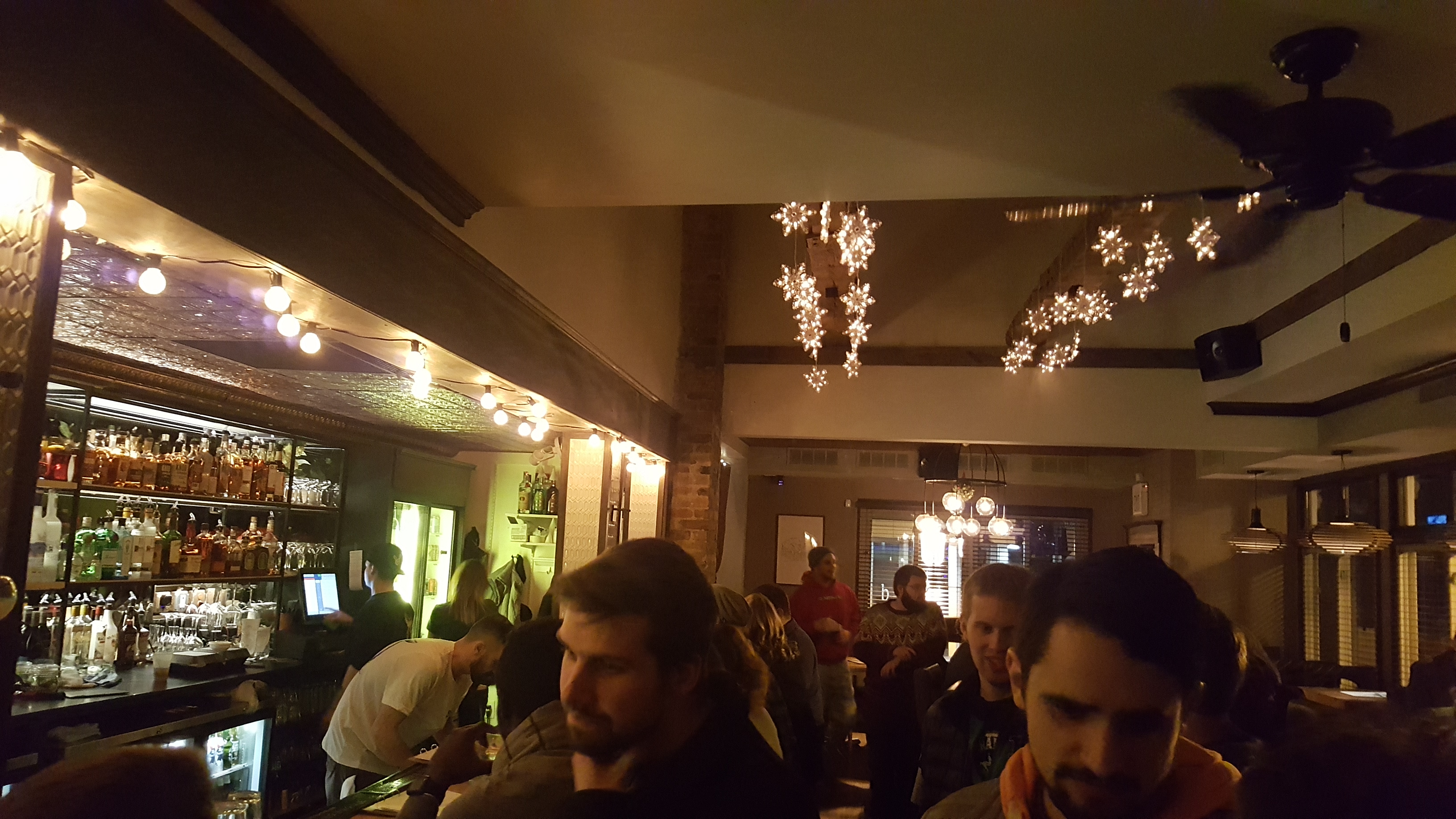 It's another great 4EG bar. They have so many great bars around Cincinnati. We wish they would open one or two in Northside. Great night. 😀📖🍺🍻🐳❤️
Posted by Thadd F. on December 8, 2017
https://tplusg.com/2017/12/08/the-deskey-holiday-party-x-hightail/
The sunset was amazing this evening as the 17 bus crossed over 75 and Mill Creek coming over the bridge into Northside…
Good evening from Northside. 😀🌇❤️
Posted by Thadd F. on December 8, 2017
https://tplusg.com/2017/12/08/good-evening-from-northside-38/
Oscar doesn't appreciate how cute he looks in his reindeer antlers. Unfortunately, he just really doesn't like having things on his head…
As soon as you take the antlers off his head, he's all super happy again…
He's a knucklehead. Taken by Genifer. 😀🐶❤️
Posted by Thadd F. on December 8, 2017
https://tplusg.com/2017/12/08/pause-for-paws-65/
After dinner at Bistro Grace, we stopped by Higher Gravity for another edition of Meet the Brewery. This week's brewery was BrewDog USA from over by Columbus by way of Scotland. There were also cheese pairings for each beer supplied by Morsel & Nosh, a new cheese shop/delicatessen coming soon to Northside. Per Morsel & Nosh…
We have chosen a classic Muenster to pair with BrewDog's 5am Saint Red Ale; the subtle flavor of this mild cheese goes well with the caramel notes of the red ale.

We've chosen a Northern France Triple Cream Brie to go with the Jet Black Heart Milk Stout; the rich cream goes well with the cacao and coffee notes of the stout.

The pairing we were the most surprised was the combination of a spicy Wildfire Blue cheese with the Elvis Juice IPA. When tasted alone the Elvis Juice has a forward hoppy/floral note and with the Wildfire Blue cheese the citrus notes really pop.
We've never been to a beer and cheese pairing before. It was interesting to taste the beer, taste the cheese and then the beer with the cheese and taste how the flavors of the cheeses accentuated the flavors of the beers. And we found it all very interesting and very tasty. 😀🍺🍻🧀❤️
Posted by Thadd F. on December 7, 2017
https://tplusg.com/2017/12/07/higher-gravity-meet-the-brewery-6/
Last Christmas, my sister gave us a gift certificate to Bistro Grace in Northside…
Tonight, I met Genifer at Hoffner Park so we could finally have dinner at Bistro Grace…
We never noticed the lovely detailing on Bistro Grace's ceiling…
We started with some deviled eggs with mushrooms…
Genifer ordered the Grilled Caesar Salad…
I ordered their Thursday Shrimp Special…
Everything was delicious! I had the shrimp special last time we were at Bistro Grace, and it was amazing. This shrimp special was different but every bit as good. We finished our meal with a trio of creme brulee…
Tremendous meal. And we still have enough left to come back next week to share some beer cheese with pretzels, some more deviled eggs and another one of Bistro Grace's amazing burgers. 😀🥗🍤❤️
Thank you the gift certificate, Shannon! It was delicious!
Posted by Thadd F. on December 7, 2017
https://tplusg.com/2017/12/07/bistro-grace-2/
It was Skyline time for lunch today! YUM! 😀🌭🍝❤️
Posted by Thadd F. on December 7, 2017
https://tplusg.com/2017/12/07/its-skyline-time-10/
It looks like it's going to be a grey and overcast morning. 😀☁️❤️
Posted by Thadd F. on December 7, 2017
https://tplusg.com/2017/12/07/good-morning-from-northside-30/
Search T+G

Thadd+Genifer

T+G Calendar of posts

T+G by Category

T+G by Month

Flickr Photos

Thadd's Instagram

FOLLOW THADD

Genifer's Instagram

FOLLOW GENIFER

Oscar's Instagram

T+G Home

Thadd+Friends

Music stuck in my head

Dealspotr

Statcounter