All posts tagged Soccer
COME ON YOU GUNNERS! #AFCvsTHS #Arsenal #COYG 😀⚽️🔫❤️
Posted by Thadd F. on November 18, 2017
https://tplusg.com/2017/11/18/happy-north-london-derby-day-3/
We went to Second Place to watch the USMNT take on Trinidad & Tobago in the final qualifying match for next summer's World Cup in Russia…
Our USMNT needed a win against a Trinidad & Tobago squad that had only won one match in qualifying. They had one win, eight losses, and no draws. Handing T&T one more loss would guarantee the USA a spot in Russia but a tie would more than likely put them into the World Cup finals as well. And the USMNT played really well against in their 4-0 rout of Panama on Friday…
And the USMNT lost 2-1. They finished fifth behind Mexico and Costa Rica and Panama and Honduras. Fifth out six teams in the hexagonal table. Next summer's World Cup finals will be the first without American involvement since 1986. Disappointing doesn't really cover it. It's just really dang embarrassing. But I haven't been this disappointed and embarrassed in the United States since Trump was put in the White House.
But hey, at least it was a pretty evening before the match…
What the heck is happening to our once-great country? 😀🇺🇸⚽️😬😥🚫🏆😭
Posted by Thadd F. on October 10, 2017
https://tplusg.com/2017/10/10/its-just-embarrassing/
This evening we just stayed in and watched the USMNT take another huge step towards qualifying for the 2018 World Cup in Russia with a 4-0 rout over Panama…
If the USMNT can beat Trinidad & Tobago on Tuesday, they'll be packing their bags for Russia next summer! 😀⚽️🇺🇸❤️
Posted by Thadd F. on October 6, 2017
https://tplusg.com/2017/10/06/one-step-closer/
IT'S INTERNATIONAL FRIENDLY MATCHDAY! The United States Women's National Team was playing their first match in Cincinnati since 2008 as they hosted New Zealand at Nippert Stadium. It also marks the first time the University of Cincinnati has ever hosted a national team match…
It seems like we've had our tickets for this match for months…
And the big day was finally here…
Here comes New Zealand…
And here comes the USWNT…
There's Megan Rapinoe…
Tobin Heath…
And Cincinnati's own Rose Lavelle…
They got the crowd going before the match with a chant of, "USA! USA! USA!"
The New Zealand National Anthem…
O say can you see…
Whoever made the tifo for the match deserves a high five, a handshake and pat on the back because it was pretty awesome…
Here we go…
GOAL USA! After relentless pressure right from the start of the match, the USWNT finally found the back of the net. New Zealand was doing a pretty good job of trying to weather the storm. But you had the feeling it was only a matter of time until the US finally opened the scoring…
And Mallory Pugh made it 2-0 before the half. But the highlight was the perfectly
weighted through ball. You can't defend against that sort of precision…
At halftime, it was still 2-0 USWNT…
Rose Lavelle was subbed off near the end of the first half…
There was a cool FC Cincinnati promo during halftime…
GOAL USWNT! Alex Morgan came in at the half and was quickly on the scoresheet…
At this point, it was becoming kind of ridiculous as the USWNT netted their fourth…
We missed the goal but the USWNT added a fifth to make it 5-0. And it was an absolute stunner! Alex Morgan's second goal of the night put the exclamation mark on an unforgettable evening!
The average attendance at a USWNT match is around 18,700…
With 30,596, tonight marked the 7th highest attendance for a standalone USWNT friendly. Cincinnati certainly shows out for its soccer…
Didn't have a ticket? Didn't matter. People still turned out to watch the match…
Mercifully, the full-time whistle was blown. 5-0 to the USWNT!
Not surprisingly, Alex Morgan was named Player of the Match after her brace tonight…
I wonder if Alex Morgan has a lot of fans?
What a night!
After the match, it sounded like the USWNT was definitely impressed with the atmosphere and support at Nippert Stadium…
It was such incredible night. Terrific atmosphere. We wouldn't have missed seeing our Women's National Team play right in our backyard for anything in the world. What an amazing way to cap another incredible summer of soccer at Nippert Stadium! It was pretty unbelievable! 😀🇺🇸⚽️🇳🇿❤️
Posted by Thadd F. on September 19, 2017
https://tplusg.com/2017/09/19/uswnt-versus-new-zealand/
IT'S FC CINCINNATI MATCHDAY 16! And it's the final home match of the regular season. Nippert Stadium played host to 22 FC Cincinnati matches total between the USL regular season, US Open Cup and the international friendly against Valencia CF. And we were there for every single one of them…
Djiby was starting again after seemingly falling out of favor for a while…
O say can you see…
Here we go…
GOAL FC CINCINNATI! Austin Berry scores the goal for FCC in the 5′!
Red Bulls pulled one back to tie the match at one all…
GOAL FC CINCINNATI!! Corben Bone became a dad earlier in the week and now he bags a goal on his birthday…
At halftime, it was still 2-1 FC Cincinnati…
And then they announced tonight's attendance…
Tonight's crowd of 30,417 set new USL attendance record for a regular season or playoff match. The old record attendance of 30,187 was set by FC Cincinnati last season during the playoff loss to Charleston on October 2nd. FC|C ends the season averaging just over 21,000 per game at home this season. The rest of the USL averaged just 4,300.  It still boggles my mind how many people show up for soccer in Cincinnati. And it doesn't look like the crowds will be letting up anytime soon.
And then FC Cincinnati added a third! GOAL FC CINCINNATI!!! Harrison Delbridge scored what has to be a contender for goal of the season… A 25-yard rocket to the far post, upper 90. WOW! JUST WOW!
Red Bulls pulled another goal back. But FC|C added a fourth! GOAL FC CINCINNATI!!!! Kenney Walker with the free kick mastery! 
And that's the way the match would end, 4-2 to FC Cincinnati…
What a great win to close out the FC|C regular season at home…
FC Cincinnati still has four away games remaining on the schedule as they make their push toward the USL playoffs. Keep an eye out for watch parties around Cincinnati…
Thank you for another wonderful season of FC Cincinnati soccer. Thank you for all the great memories from this season. We can't wait to see you next season. 😀⚽️❤️
Posted by Thadd F. on September 16, 2017
https://tplusg.com/2017/09/16/fc-cincinnati-versus-ny-red-bulls-ii/
IT'S FC CINCINNATI MATCHDAY 15! There was an odd 4 o'clock kickoff for today's FC Cincinnati match as they were playing host to Pittsburgh Riverhounds…
And it was kind of a chilly, rainy afternoon…
But none of that mattered because we got new FC|C tall boy coozies…
We waited for the match to start and the drizzle to end under an overhang at the east end of Nippert Stadium by The Bailey…
O say can you see…
Here we go…
Pittsburgh scored in just the second minute…
I got up to go to the restroom and wouldn't you know it… FC Cincinnati pulled level…
And that's the way it would stay at halftime…
And the second half was about to get underway…
Djiby made an appearance…
Despite the rain and the odd start time, there was another great crowd…
After the match, we took an Uber back to Northside and stopped into Higher Gravity for a little taster flight before header home…
FC Cincinnati's final home match of the regular season will take place on September 16th against New York Red Bulls 2. And we'll see you there! 😀⚽️❤️
Posted by Thadd F. on September 2, 2017
https://tplusg.com/2017/09/02/fc-cincinnati-versus-pittsburgh-riverhounds-2/
This evening we ordered some delicious NYPD pizza and then watched the USMNT lose 2-0 to Costa Rica in World Cup qualifying…
The match was very disappointing. But the pizza was really, really good. 😐⚽️🍕❤️
Posted by Thadd F. on September 1, 2017
https://tplusg.com/2017/09/01/usmnt-x-nypd/
IT'S FC CINCINNATI MATCH DAY FOURTEEN! FC Cincinnati was taking on Ottawa Fury for the very first time either home or away…
Bearcats football is starting soon. And now we have padded seat cushions and seat backs where we used to just have bleachers. It's a nice perk for the final three home games of the FC|C season…
And speaking of new additions, look at that beautiful new digital scoreboard…
Here come the supporter's groups marching into The Bailey…
The Bearcat was in the crowd in The Bailey…
I hope FC Cincinnati decides to build their new stadium in Ohio too…
Or if they just wanted to stay at Nippert Stadium that would be fine too…
O Canada…
O say can you see…
Here we go…
I spent the first few minutes of the match just watching the new videoboard…
That thing is really nice…
GOAL! FC CINCINNATI! Danni Konig put FC|C up 1-0! 
GOAL!! FC CINCINNATI! Jimmy McLaughlin was sent clear to put FC|C 2-0 up… 
FC|C had this incredible defensive sequence just before halftime that denied Ottawa what should have been a clear goal…
And at halftime, it was still FC|C 2 Ottawa Fury 0…
SPRINKLES!
And the second half is underway…
GOAL!!! FC CINCINNATI! Sem deWit with his first goal of the season for FC|C! 
Ottawa Fury pulled a goal back…
There was another crowd of 20,000+ at tonight's match…
The fourth official indicated a minimum of 5 additional minutes…
And there's the full-time whistle with the final score 3-1 to FC Cincinnati…
It was really good to see FC|C bounce back with a win after a string of difficult results. We'll see you at FC Cincinnati's second to last home match on September 2nd against Pittsburgh Riverhoundz. 😀⚽️❤️
Posted by Thadd F. on August 23, 2017
https://tplusg.com/2017/08/23/fc-cincinnati-versus-ottawa-fury/
IT'S MATCH DAY! THE MATCH DAY! US Open Cup semi-finals between New York Red Bulls of MLS and our FC Cincinnati. Live from Nippert Stadium…
It was a match surrounded with such eager anticipation that my parents drove all the way down from Michigan for it. FC|C head coach Alan Koch said before the match that his upstart FC Cincinnati US Open Cup Cinderellas should be known as 'FC Disneyland.' Speaking of Disneylands, Nippert was buzzing childlike excitement and wonder…
They're in the process of installing a brand new huge video scoreboard at Nippert. It's going to be the same size as the scoreboard out in left field at Great American Ballpark…
At the other end of Nippert was a little make-shift video screen…
At the New York Red Bulls end of Nippert, the US Open Cup semifinal banner down in the corner was pretty incredible…
There's Red Bulls and sometimes USMNT star, Sacha Kljestan…
And 99 is former Southampton and England striker, Bradley Wright-Phillips…
Here come the supporters groups on their way to The Bailey…
O say can you see…
The Bailey's tifo was pretty awesome…
Some of the other banners were pretty good too…
HERE WE GO…
GOAL! 1-0 FC CINCINNATI! Corben Bone fired FC|C to an early lead…
And there's the whistle for halftime with the score still 1-0 to FC Cincinnati!
SPRINKLES!
And here we go. The second half is underway…
2-0 FC CINCINNATI! AUSTIN BERRY! 
A sell-out crowd in the neighborhood of 36,000 was expected for tonight's semifinal. Any number over 35,613 would have broken the current attendance record set in the 2011 US Open Cup final between the Seattle Sounders and Chicago Fire. But we fell just short of that mark tonight, there were 33,250 at tonight's match which is a new US Open Cup non-final attendance record. And I just missed getting a photo of the attendance when it was announced because they put it on the runner board, not the little video board…
Red Bulls pulled one back to make it 2-1…
And then they tied the game…
At the full-time whistle, it was still 2-2. This one's going into extra time…
Red Bulls took the lead 3-2…
The final 15-minute extra time half…
There's the final whistle and FC Cincinnati's magical Cinderella story US Open Cup run has come to the end of its road. Red Bulls were just too much tonight and won 3-2…
FC Cincinnati head coach, Alan Kock praised his team after the game…
FC Cincinnati's Jeff King said it best…
Regardless of a score 2nite, remember this passion. Remember ur pride. Remember this amazing run. Remember this movement you helped build.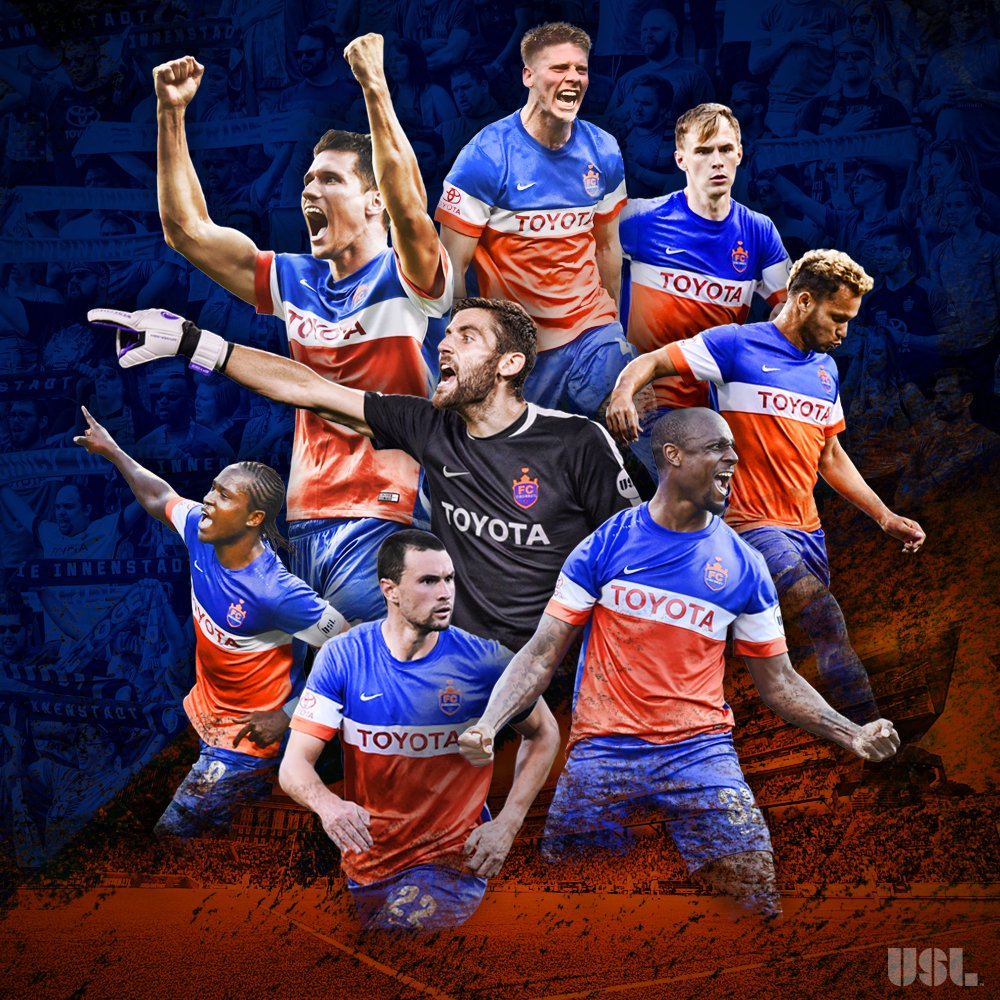 And what an amazing run it was! It's one that will be long remembered and reminisced about for ages. 😀⚽️🏆❤️
Posted by Thadd F. on August 15, 2017
https://tplusg.com/2017/08/15/usoc17-fc-cincinnati-versus-new-york-red-bulls/
It's going to be the NEW biggest match of the season! Heck. It's going to be the biggest match in the short but remarkable history of FC Cincinnati…
Our tickets for the huge US Open Cup semi-final match between FC Cincinnati and New York Red Bulls of MLS tarrived in the mail last night…
And it's a good thing we're season ticket holders with the first opportunity to buy our tickets to the match almost immediately after the US Open Cup quarter-final win over Miami FC because it was just announced this morning that CINvNY is officially…
Tickets went on sale to the general public yesterday at 1 pm and this morning it was just announced that FC Cincy's US Open Cup semi-finalmatch at Nippert Stadium is officially SOLD OUT! FC|C President and General Manager Jeff Berding said the sales team sold 16,000 tickets in roughly seven hours. WOW. Just wow.
"The atmosphere at Nippert Stadium is going to be spectacular." And I cannot wait! 
😀⚽️🏆❤️
Graphics courtesy of FC Cincinnati's Twitter. 
Posted by Thadd F. on August 9, 2017
https://tplusg.com/2017/08/09/we-have-our-tickets-2/
Search T+G

Thadd+Genifer

T+G Calendar of posts

T+G by Category

T+G by Month

Flickr Photos

Thadd's Instagram

FOLLOW THADD

Genifer's Instagram

FOLLOW GENIFER

T+G Home

Thadd+Friends

Music stuck in my head