All posts in category FC Cincinnati
We've loved every minute of it. And we're still going strong! Bring on MLS! 😀🦕⚽️❤️
Posted by Thadd F. on December 6, 2018
https://tplusg.com/2018/12/06/three-years-ago-4/
USL EASTERN CONFERENCE SEMI-FINALS! Our number one seeded FC Cincinnati was playing host to the fifth seed baby Bulls of New York…
HERE WE GO!
At halftime, it was 1-0 New York Red Bulls II…
And after a very frustrating second half with very few chances created, the match would end 1-0 to NY Red Bulls…
With today's loss, FC Cincinnati saw its 2018 season come to an end. It was a great season for FC Cincinnati. They went on an unbelievable undefeated run that spanned FC|C's last 23 games of the regular season, and last 25-games overall. The undefeated streak began all the way back on June 2 and also included draws in the club's US Open Cup fourth-round match against MLS' Minnesota United (0-0, 4-1 loss in PKs) and last week's Eastern Conference Quarterfinal against Nashville SC (0-0, 6-5 win in PKs). FC Cincy posted a regular-season record of 23-3-8 with 77 points. They set USL records for regular-season wins, longest undefeated streak and most points. And they were crowned USL regular season champions. It was a pretty amazing season.
But all good things have to come to an end. I would much rather have them get knocked out in the conference semi-finals by Red Bulls than rival Louisville City in the conference finals. Or for them to make it to the USL Cup final only to lose that match. Hopefully, they'll keep getting better and better players and will be competitive next season in MLS. We'll just have to wait and see. 😀⚽️🏆❤️
Posted by Thadd F. on October 27, 2018
https://tplusg.com/2018/10/27/usl-cup-2018-fc-cincinnati-versus-ny-bed-bulls-ii/
We were watching our FC Cincinnati play away to Pittsburgh Riverhounds. The match ended in a very uneventful 0-0 draw. But at halftime, USL unveiled their new future rebranding, and it was pretty slick…
As a designer who loves soccer, this would have been a dream project to work on. And it's really well done. It's a very nice rebranding for USL Soccer. The entire effort, everything about it feels very Premier League to me. The animations, the graphics, the fonts, the whole thing is wonderful. Well done, USL! I love how they tiered their leagues. It makes me sad that Cincinnati isn't going to be a part of it. Because I think it's great. I think the USL has a lot more vision than MLS. MLS has always just seemed like a huge cash grab to me. Less about the soccer, certainly less about the fans, definitely about snatching every last dollar possible. Sorry, I'm just not a fan of MLS. At all.
Here are the "highlights" from a pretty boring 0-0 draw…
But with this draw, FC Cincinnati tied a USL record by extending their undefeated streak to 22 matches. They can break the record next weekend at Nashville in the game of the regular season. 😀⚽️🏆❤️
Posted by Thadd F. on October 6, 2018
https://tplusg.com/2018/10/06/usl-rebrands-and-its-wonderful/
IT'S FC CINCINNATI MATCH DAY SEVENTEEN! Tonight was the final USL regular-season home game for our FC Cincinnati. Their next home match will be the opening round of USL Cup 2018. And after that, they'll move on to MLS.
FC|C can tie the current USL record for consecutive matches undefeated with a win or a draw tonight. With our soon to be collector's item tickets in hand, we headed out to Nippert Stadium to watch our FC Cincy take on Indy Eleven…
I just missed the team photo…
HERE WE GO…
It was 1-0 FC|C at the half, and that means… SPRINKLES!
Sprinkles had a new friend but I didn't catch what his name was…
AND THERE'S THE FULL-TIME WHISTLE! 3-0 to FC|C!
And FC Cincinnati tied the USL record for most consecutive matches without a defeat at 22 in a row! The players celebrated while a small stage was set up for an onfield post-match ceremony with the presentation of some silverware for our USL regular season champions…
WHAT A NIGHT! FC Cincinnati plays away to Nashville SC next Saturday in the final match of the regular season. As regular season champions, FC Cincinnati gets home-field advantage throughout USL Cup 2018. Their first playoff match will be on Saturday, October 20th right here at Nippert Stadium. 😀⚽️🏆❤️
Posted by Thadd F. on September 29, 2018
https://tplusg.com/2018/09/29/fc-cincinnati-versus-indy-eleven/
IT'S FC CINCINNATI MATCH DAY SIXTEEN! The Cincinnati Bearcats had their home opener last night, thumping Alabama State 63-7. And that meant the soccer match would be of the rare Sunday variety. Here's a really cool time-lapse of the Nippert Stadium conversion process from football to soccer. Today, our first place FC Cincinnati was taking on last-place Toronto FC 2. You'd think this would be an easy three points. But when FC|C played away at Toronto, Cincy squandered a 3-1 lead to walk away with only a point from a 3-3 draw. We were hoping they learned their lesson and could take care of business this time at home…
FC Cincinnati came out wearing Cincy Shirt's Cincy Strong t-shirts after the tragedy that took place in our great city on September 6, 2018.
FC Cincinnati honored the brave first responders on the field before the match…
Here we go…
GOAL! FC Cincinnati! Manu Ledesma found the head of Forrest Lasso off a free kick to tie the game at 1-1. Here's another look…
GOAL!! FC CINCINNATI!! And Adi tied the match back up at 2-2 after another gorgeous ball from Manu. Here's the best view ever of this gem…
And the first half would end with the game knotted at 2-2…
And that meant it was time for…
SPRINKLES!
And we're back underway…
GOAL!!! FC CINCINNATI! Corben Bone was played through by Jimmy…
GOAL!!!! FC CINCINNATI! Corden Bone added a second in the 88th minute…
A crowd of 27.275 turned out to cheer on FC|C on this Sunday afternoon…
The match would end 4-3 to FC Cincinnati…
With the win, FC|C extended their unbeaten streak to 18 matches. And the next home match will be the last-ever home regular season USL match for the club before they make their highly anticipated jump to MLS next season. We'll see you there! 😀⚽️❤️
Posted by Thadd F. on September 16, 2018
https://tplusg.com/2018/09/16/fc-cincinnati-versus-toronto-fc-ii-2/
IT'S FC CINCINNATI MATCH DAY FIFTEEN! Our first place FC Cincinnati was taking on third place Pittsburgh Riverhounds. We stopped at Mac's Pizza Pub before the match. We always do. They have a gameday special with a small two-topping pizza for just $5. And their pizza is delicious…
And then it's onto Nippert Stadium…
I took most of these photos with my new Samsung Galaxy Note9. The others I took with my Polaroid CUBE+. I've been pretty impressed with the Note9 as a phone and the phone's camera overall is pretty outstanding. But it definitely doesn't zoom capabilities of my old Samsung Galaxy S camera. It has the best zoom I've ever seen. When you zoom with the Note9, the photos start to get a little fuzzy…
Oh well. HERE WE GO…
At the half, the match was still knotted at 0-0. That meant it was time for… SPRINKLES!!!
And we're back underway…
Pittsburgh jumped out to 1-0 lead…
GOAL! FC CINCINNATI! FC Cincinnati leveled the match at 1-1. Manu found Dekel Keinan's head off a free kick to tie the game…
And then FC Cincinnati's first MLS designated player signing, Fanendo Adi gave FC|C a 2-1 lead with his first goal for the club. And after scoring he ran straight to FC Cincy head coach, Alan Koch to pick him up with a huge bear hug…
Adi scoring his first goal and running to hug Coach Koch will definitely be one of the most memorable moments of this season for me. I keep missing the match attendance but I saw afterward that there were 25,735 at tonight's match…
The match ended 2-1 with FC|C extending their undefeated streak to 16 games…
With the win, FC Cincinnati clinched a spot in the USL Playoffs…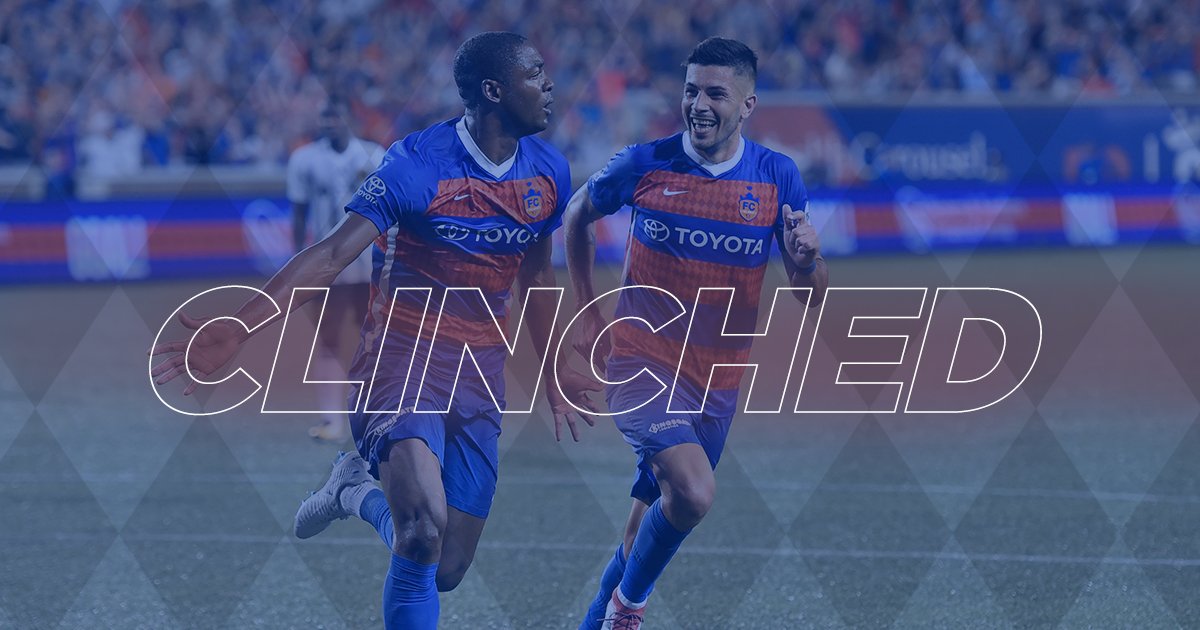 FC|C is the first team this season to clinch a spot in the postseason. After the match, we grabbed at Uber to Higher Gravity to celebrate the win with a beer and a slice of pizza and some No-no BBQ Wings from Northside's Chameleon Pizza…
You can't beat that for a Saturday evening, an FC|C comeback win, clinching a spot in the playoffs and two different types of pizza. It was a good day. 😀🍕⚽️🍕❤️
At some point, I'd like to go watch a Pittsburgh Riverhounds home match. Their stadium seems really unique. It's right on the river and in between the stadium and their river are train tracks. We've watched FC|C play away to Riverhounds and you'll be watching the match and then a train will come speeding by seemingly out of nowhere. I'm also hoping that they have a hot dog called the Riverdog. Because if they don't it's really a missed opportunity. maybe next summer, we'll be able to take a road trip to Pittsburgh.
Posted by Thadd F. on September 1, 2018
https://tplusg.com/2018/09/01/fc-cincinnati-versus-pittsburgh-riverhounds-4/
It was Skyline Time for lunch today. Come to find out that in addition to being the Official Chili of our Cincinnati Reds, Skyline in is the Official Chili of our FC Cincinnati. And for a limited time, you could get a free FC Cincinnati cup with your purchase…
Done and done…
Skyline time is delicious. 😀🌭⚽️❤️
Posted by Thadd F. on August 24, 2018
https://tplusg.com/2018/08/24/its-skyline-time-16/
IT'S FC CINCINNATI MATCH DAY THIRTEEN!
Right off the bat, we didn't go to the match tonight. We thought a match at 6pm on a Sunday was just a bit too late for us and we didn't want to be dragging for the rest of the week. So we just stayed home and watched the match on TV. FC|C ended up winning the match 1-0 on a Manu Ledesma free-kick that took a wicked deflection off the wall…
The win extended FC Cincy's unbeaten run to 12 in a row. And put them 5 points clear at the top of the standings in the USL's Eastern Conference. And that's cool and all, but I probably wouldn't have even done a blog post about this match if it wasn't for a really wonderful video that aired at halftime on TV. The segment had the three remaining original players from the first season talking about their experiences with the club over the last three years. It was awesome. And I don't know if I would have ever seen it if we had actually gone to tonight's match…
It was a really great video with the remaining OGs of FC|C soccer. 😀⚽️📺❤️
Posted by Thadd F. on August 12, 2018
https://tplusg.com/2018/08/12/fc-cincinnati-versus-penn-fc/
Three years ago today, it was announced that FC Cincinnati was getting a USL soccer team. I remember being stunned and then incredibly excited by the news that there was going to be professional soccer in Cincinnati. And that it was going to be played right in our backyard at Nippert Stadium on the campus of the University of Cincinnati…
We were so excited! We went to Rhinehaus in OtR to meet one soccer idols, John Harkes who was named head coach of the Queen City's fledgling soccer team…
Happy birthday, FC Cincinnati! It's been an amazing three years of USL soccer! 😀⚽️❤️
Posted by Thadd F. on August 12, 2018
https://tplusg.com/2018/08/12/happy-birthday-fc-cincinnati-2/
IT'S FC CINCINNATI MATCH DAY TWELVE! We missed the Wednesday night win against the Charlotte Independence. Those Wednesday night matches make for a really long rest of the week. We also missed FC|C's win against the New York Red Bulls II two Saturdays ago because of my hip revision surgery. But we made it to last Saturday's international Friendly against RCD Espanyol. And tonight, FC Cincinnati was hosting the other soon-to-be-an-MLS-team, Nashville SC…
Before the match, we stopped at Chicago Gyros & Dogs in Clifton for lunch…
And a $5 bucket of the Champagne of Beers, Miller High Life…
This is the first time we've actually eaten at Chicago Gyros & Dogs. Chicago Gyros & Dogs has become our go-to place whenever we order food from UberEats. It's so good. And they're the only place I've found that will deliver me delicious corn dogs whenever I want. And I love corn dogs. When we were getting ready to head over to the Nippert Stadium, the sky looked like this…
Come to find out, the match was on a lightning delay. And kick-off was pushed back until 8:30pm so we went to Mac's to have a beer and watch some of the Red's baseball game. Eventually, we headed over to Nippert Stadium when game time finally rolled around…
We were walking into Nippert right as the match was kicking off…
And it was a dream start for FC Cincinnati! Danni Konig scored the fastest goal in FC|C history by finding the back of the net in the FIRST MINUTE of the match!
And a quick video snippet of the atmosphere at Nippert Stadium and me trying in vain to get JimmyMcLaughlin to wave at us as he warmed up…
At halftime, FC|C still had a 1-0 lead over Nashville…
SPRINKLES!
Midweek FC Cincinnati signed their first MLS Designated Player, Fanendo Adi. Adi hails from Lagos, Nigeria, and scored 54 goals in 126 games in four seasons with the Portland Timbers. From the FC Cincinnati website…
Adi originally came to Portland in May 2014 as a Designated Player on loan from FC Copenhagen, scoring nine goals and adding four assists in 24 games in his debut MLS season. Portland later completed the transfer and he then scored back-to-back 16-goal seasons in 2015 and 2016. In 2017, he registered his third-straight season with double-digit goals with 10, despite being sidelined the final two months of the year with injury.

With Copenhagen, Adi drew UEFA Champions League experience with group-stage appearances against Juventus, Real Madrid and Galatasaray.
And tonight Fanendo Adi made his FC|C debut coming on as a sub in the 72nd minute for the goal-scorer, Danni Konig…
I just missed the attendance again. It was announced that there was a crowd of 27,426  were at tonight's match…
And the match would end in a 1-1 draw. 
FC Cincinnati's next home match is next Sunday, August 11th at 6pm against Penn FC. So we'll probably end up skipping that one, and just watching the match on TV. If it was an early game on Sunday like 2pm or even 4pm, we'd probably go. But we need to get ready for our week and that's just too late for us to be running around on a Sunday evening.
Looking at the calendar, I think we're also going to miss the match on Saturday, August 18th against Charleston Battery because we'll be in Michigan. We'll be sure to take one of our Chromecast and a couple of tablets with us to Michigan so we can stream that match through ESPN+ as well.
But thankfully, there's a home game almost every Saturday for the entire summer. So it looks like the next match we'll be able to make it to will be on Saturday, September 1st against Pittsburgh Riverhounds. We'll see you at Nippert! 😀⚽️❤️
Posted by Thadd F. on August 4, 2018
https://tplusg.com/2018/08/04/fc-cincinnati-versus-nashville-sc/
Search T+G

Thadd+Genifer

T+G Calendar of posts

T+G by Category

T+G by Month

Flickr Photos

Thadd's Instagram

Thadd's @Dsgn_Life Instagram

FOLLOW THADD

Genifer's Instagram

FOLLOW GENIFER

Oscar's Instagram

T+G Home

Thadd+Friends

Music stuck in my head

Dealspotr

Statcounter