IT'S FC CINCINNATI MATCH DAY FIFTEEN! Our first place FC Cincinnati was taking on third place Pittsburgh Riverhounds. We stopped at Mac's Pizza Pub before the match. We always do. They have a gameday special with a small two-topping pizza for just $5. And their pizza is delicious…
And then it's onto Nippert Stadium…
I took most of these photos with my new Samsung Galaxy Note9. The others I took with my Polaroid CUBE+. I've been pretty impressed with the Note9 as a phone and the phone's camera overall is pretty outstanding. But it definitely doesn't zoom capabilities of my old Samsung Galaxy S camera. It has the best zoom I've ever seen. When you zoom with the Note9, the photos start to get a little fuzzy…
Oh well. HERE WE GO…
At the half, the match was still knotted at 0-0. That meant it was time for… SPRINKLES!!!
And we're back underway…
Pittsburgh jumped out to 1-0 lead…
GOAL! FC CINCINNATI! FC Cincinnati leveled the match at 1-1. Manu found Dekel Keinan's head off a free kick to tie the game…
And then FC Cincinnati's first MLS designated player signing, Fanendo Adi gave FC|C a 2-1 lead with his first goal for the club. And after scoring he ran straight to FC Cincy head coach, Alan Koch to pick him up with a huge bear hug…
Adi scoring his first goal and running to hug Coach Koch will definitely be one of the most memorable moments of this season for me. I keep missing the match attendance but I saw afterward that there were 25,735 at tonight's match…
The match ended 2-1 with FC|C extending their undefeated streak to 16 games…
With the win, FC Cincinnati clinched a spot in the USL Playoffs…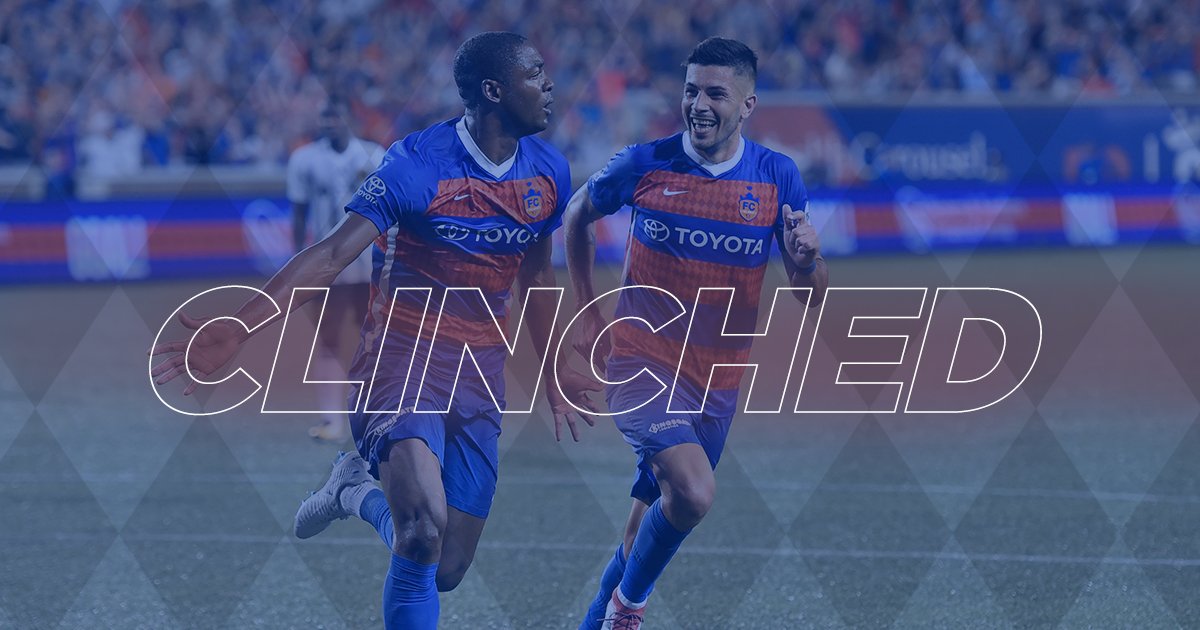 FC|C is the first team this season to clinch a spot in the postseason. After the match, we grabbed at Uber to Higher Gravity to celebrate the win with a beer and a slice of pizza and some No-no BBQ Wings from Northside's Chameleon Pizza…
You can't beat that for a Saturday evening, an FC|C comeback win, clinching a spot in the playoffs and two different types of pizza. It was a good day. 😀🍕⚽️🍕❤️
At some point, I'd like to go watch a Pittsburgh Riverhounds home match. Their stadium seems really unique. It's right on the river and in between the stadium and their river are train tracks. We've watched FC|C play away to Riverhounds and you'll be watching the match and then a train will come speeding by seemingly out of nowhere. I'm also hoping that they have a hot dog called the Riverdog. Because if they don't it's really a missed opportunity. maybe next summer, we'll be able to take a road trip to Pittsburgh.