All posts tagged Chicago Cubs
Five years ago, Cubs legend Ernie Banks passed away…
Mr. Cub was one of the greatest of all-time. 😰🦕🐻⚾️❤️
Posted by Thadd F. on January 23, 2020
https://tplusg.com/2020/01/23/five-years-ago-2/
Three years ago today, everyone was waking up to a world where the Chicago Cubs were finally World Series champions after 108 years…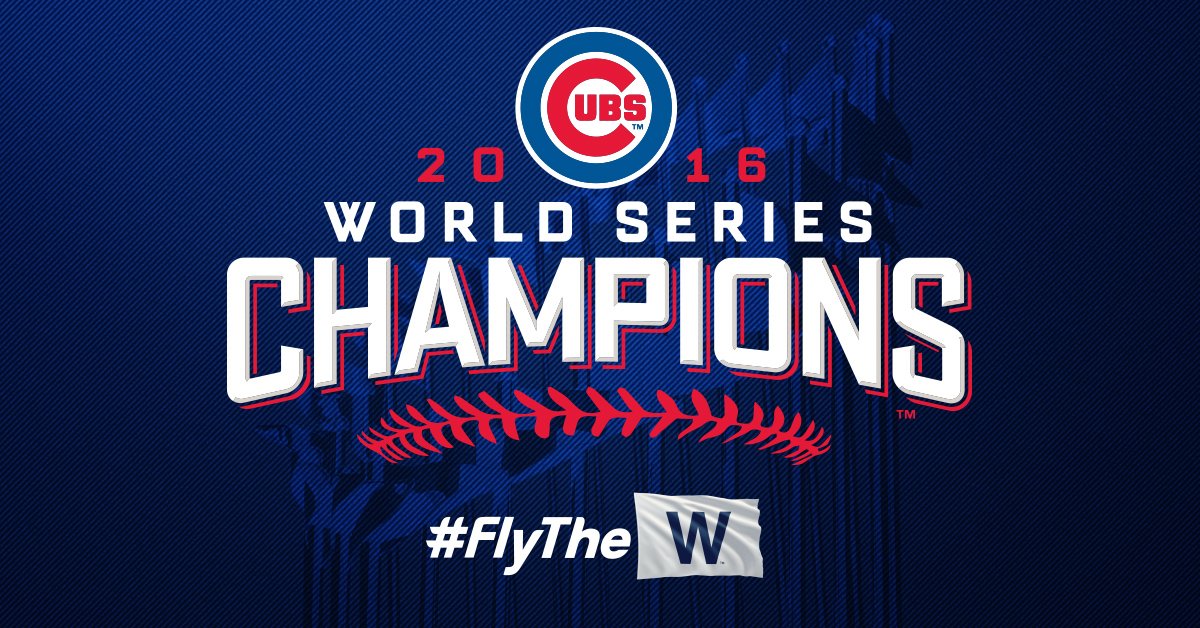 GO CUBS GO! Thanks for the memories, Timehop! 😀🦕⚾️❤️
That reminds me, if you ever get the opportunity to watch Let's Play Two, it's terrific…
Let's Play Two is a documentary that chronicles Pearl Jam's legendary performance at Wrigley Field during the Chicago Cubs historic 2016 season. With Chicago being a hometown to Eddie Vedder, Pearl Jam has forged a relationship with the city, the Chicago Cubs and Wrigley Field that is unparalleled in the world of sports and music.
It's just an incredible film that made me fall in love with Pearl Jam all over again. And it does an amazing job of telling the story of the years of heartbreak to the elation of Cubs fans and mystique of Wrigley Field and how it all intertwines with Pearl Jam playing Wrigley Field during Cubs magical run to their World Series championship. That's a wicked long run-on sentence but it's just a great documentary that I ended up buying and watch probably once a week.
And while we're talking about baseball during the non-baseball season, peep this…
It's all the Cincinnati Reds Big Red Machine team shown through baseball cards framed on a baseball diamond organized by player position. I've never really seen anything like this and I just thought it was also really pretty neat.
Posted by Thadd F. on November 3, 2019
https://tplusg.com/2019/11/03/three-years-ago-9/
I picked us up some tickets to this afternoon's Reds versus Cubs game at GABP…
With the Reds playing the Cubs, it meant there were going to be a bunch of people at today's game, more than a normal game…
We skipped the Crosley Terrace where we usually enter the ballpark because it was packed with people. As we approached the Terrace, Genifer thought they hadn't opened the gates yet. They were open. It was just so many people that it didn't look like they were moving at all…
We entered the ballpark through one of the lesser used gates down the first base line by Mr. Reds Smokehouse where there was no wait to get in…
It's always amazing to be back at GABP…
It's one of my very favorite places around…
Time Adelman was on the hill for the Reds this afternoon…
And Kris Bryant was back in the Cubs starting lineup after sitting the first two games of the series with an injury…
And the Cubs Anthony Rizzo was in the lineup too…
Jake Arrieta was on the mound of the Cubs…
Zack Cozart and Joey Votto both made this year's National League All-Star team…
BARGE!
Hot dogs always taste better at baseball games…
Time for the live Reds mascot race…
And this one belongs to Mr. Red…
ARISMENDY ALCANTARA! One of the best names in all of baseball…
There were a lot of people at the game this afternoon…
Out.
The Cubs brought in Koji Uehara…
Cubs win. Cubs win. Holy cow. This one did not belong to the Reds. When the Reds took the first two games of the series, we knew that the Reds would more than likely not come out on the happy end of this game…
People must have been carrying those W flags around with them all weekend, just waiting and hoping that they would get a chance to unfurl them at some point…
It was great to be back at the ballpark. The only thing I miss about living downtown was being able to walk to Great American Ball Park to watch the Reds play baseball. 😀⚾️❤️
Posted by Thadd F. on July 2, 2017
https://tplusg.com/2017/07/02/reds-baseball-game-5-2/
108 years, erased during one of the best baseball games I've ever seen.
Congratulations, Cubbies! World Series Champions at long last.
Simply unbelievable. Well done. ⚾😢😭😂
#FlyTheW
Posted by Thadd F. on November 2, 2016
https://tplusg.com/2016/11/02/unbelievable/
The last weekend of the Reds baseball season. We wanted to get in one more ballgame to make it 15 trips to Great American Ball Park for us this season. We were hanging out at Washington Park for the Pokopolis Pig & Whiskey festival before the game…
Then we walked across Race Street so Genifer could ride the streetcar CB Connector for the first time…
Here it comes…
Apparently, everyone downtown had the exact same idea as us. The Connector was stupid packed…
But we eventually made it to The Banks. We're pretty sure we could have walked there quicker.
The Reds were playing the Cubs for this final series of the regular season. It was cool to get to see the Cubbies before they embark on their postseason run…
John Lester was on the hill for the Cubs…
Joey Votto's had an extraordinary second half of the season…
It's ridiculous how good he's been this year after a slow start. Bases were full of Reds…
Plenty of seats were still available…
So not surprisingly, we were able to find that Chick-fil-a cow…
And Rosie Red…
Last ball park snacks of the season…
Now the bases were chuck full of Cubbies…
BARGE!
The Cubs brought in Aroldis Chapman to pitch the eighth inning…
With two outs in the eighth, it was Aroldis Chapman versus Joey Votto…
Raisel Iglesias came in to try to shut the door on the Cubs…
And this one belongs to the Reds!
It was a long, tough season for the Reds. But the second half showed a lot of promise and potential for what could be next season. I just know now that for the next couple of weeks I'll look at the clock see that it's around 7pm, go to turn on the Reds game and have to remind myself that the season's over. There isn't any more Reds baseball until next Spring. And for me, that's always the hardest part. It's not the fact that they didn't do well this year. It's the fact that their season is over, and I have to wait all winter until I can get to watch my Reds play baseball again. 🙂
Posted by Thadd F. on October 1, 2016
https://tplusg.com/2016/10/01/reds-baseball-game-15/
We went to our 11th Reds game of the season so far, and they were playing the Cubbies. It would be our very last Reds game as downtown residents…
It was a beautiful night for baseball…
Kris Bryant went yard with a solo shot…
And then he hit another one…
This time it was a three-run shot. Jumbo Diaz was just recalled from AAA Louisville today…
And Jake Arrieta hit an opposite field home run…
Joey Votto got in on the act with the first of his two home runs…
Kris Bryant added his third home run of the night…
And Rizzo got in on the act and added a dinger…
We packed it in early so we could go home and pack up some more of our stuff…
The Reds would go on to lose 11-8. Kris Bryant put on a clinic going 5-5 with 3 home runs and 2 doubles. It was a pretty memorable night! 🙂
Posted by Thadd F. on June 27, 2016
https://tplusg.com/2016/06/27/reds-baseball-game-11/
It was really pretty out this afternoon. So we walked down to GABP to see the Reds take on those Chicago Cubbies for Reds game #3 of the season…
We got some walk-up tickets to the game for just $6 using our PNC Reds card. We had no idea what was going on at the front gates to GABP. But there were incredibly long lines waiting to get into the ballpark, and this was right as the game was about to start…
It was worse than trying to get into last summer's All-Star Game or one of the Reds postseason games…
It was a surprisingly full house for Sunday baseball despite the Reds being walloped 16-0 and no-hit by the Cubs Jake Arrieta back on Thursday…
I wonder how many of the people at the game were Cubs fans though. There was an awful lot of Cubbie blue in the stands this afternoon…
There was the Sunday live edition of the Reds Mascot race…
And this one belongs to Mr. Redlegs…
One of favorite Reds, Tucker Barnhart made an appearance…
We got some dogs…
Then we moved up to the view level out in left field…
It's hard to take a selfie with your sunglasses on…
This one was better…
Boom! Pow! Cubs win! Cubs win! Holy cow…
Oh well. It was beautiful Sunday for baseball, and it's always fun to be at the ballpark regardless if Reds win or lose. And I can only imagine that they'll be doing more than their fair share of losing this season.
Posted by Thadd F. on April 24, 2016
https://tplusg.com/2016/04/24/reds-baseball-game-3/
Search T+G

Thadd+Genifer

T+G Calendar of posts

February 2023
M
T
W
T
F
S
S
1
2
3
4
5
6
7
8
9
10
11
12
13
14
15
16
17
18
19
20
21
22
23
24
25
26
27
28

T+G by Category

T+G by Month

Flickr Photos

FOLLOW THADD

FOLLOW GENIFER

Oscar's Instagram

T+G Home

Thadd+Friends

Music stuck in my head

Dealspotr

Statcounter