All posts tagged Sunday
After our fun yesterday, we had a pretty low-key Sunday…
It was a very pretty day. 😀🌄♥️
Posted by Thadd F. on March 21, 2021
https://tplusg.com/2021/03/21/sunday-march-21st/
Today was Pi Day (3.14) so we went to Taft's for pizza pie…
😀🌄🍕♥️
Posted by Thadd F. on March 14, 2021
https://tplusg.com/2021/03/14/sunday-march-14th/
Good morning from Northside…
We had earned a free pizza from Domino's Piece of the Pie Rewards, and this afternoon we cashed in on free pizza…
Here's our free pizza…
Ohmigosh. Free pizza is so good.
This footprint looked like it had two paw toes…
😀🌄❄️🍕♥️
Posted by Thadd F. on February 21, 2021
https://tplusg.com/2021/02/21/a-free-sunday-pizza-party/
It was a rainy Sunday. And we had the laziest of lazy Sundays. This morning we watched the Chelsea and Leicester FA Cup matches. Unlike Arsenal, both teams advanced to the next round.
Good morning from Northside…
We picked up some NYPD hoagies for lunch today…
While we were eating lunch, we perused some VRBO spots…
NYPD hoagies are so good.
And good evening from Northside…
We watched the NFL playoff games. My biggest fear was that the Packers and Chiefs would both win and we'd have a State Farm Superb Owl. But thankfully, there's the greatest of all time, Tom Brady…
Posted by Thadd F. on January 24, 2021
https://tplusg.com/2021/01/24/the-laziest-of-lazy-sundays/
Bleh. Good morning from Northside…
When I was putting this blog post together, I had a hard time figuring out if these were photos from this morning or yesterday evening. It all just looked the same… very, very grey and awfully damp…
We ran over to Lowe's this morning…
Lowe's had all their Christmas stuff out in full force…
Christmas trees are silly expensive at Lowe's…
It must be the frosted tips or maybe the lights…
We got our artificial Christmas tree for a fraction of that a couple of years ago. We found it on one of those deals and discounts websites after Christmas. And I guess we got a really good deal. I liked this wreath…
We're thinking about replacing the carpeting in our bedroom with this embossed wood plank laminate flooring in Seaside Chestnut…
We want to remake our third floor bedroom to have a coastal cottage feel. Genifer wants to paint our bedroom. Here's the colors she's thinking…
And I really liked this rug…
And then we went back to Biggby for coffee…
I tried this new Biggby maple waffle breakfast sammich…
It was really good. I would definitely eat it again.
And after some football, it was good evening from Northside…
We watched my Minnesota United host their first home playoff match tonight against Colorado Rapids. Andhe Loons earned their first playoff victory with a 3-0 win over Colorado led by two goals from Kevin Molino…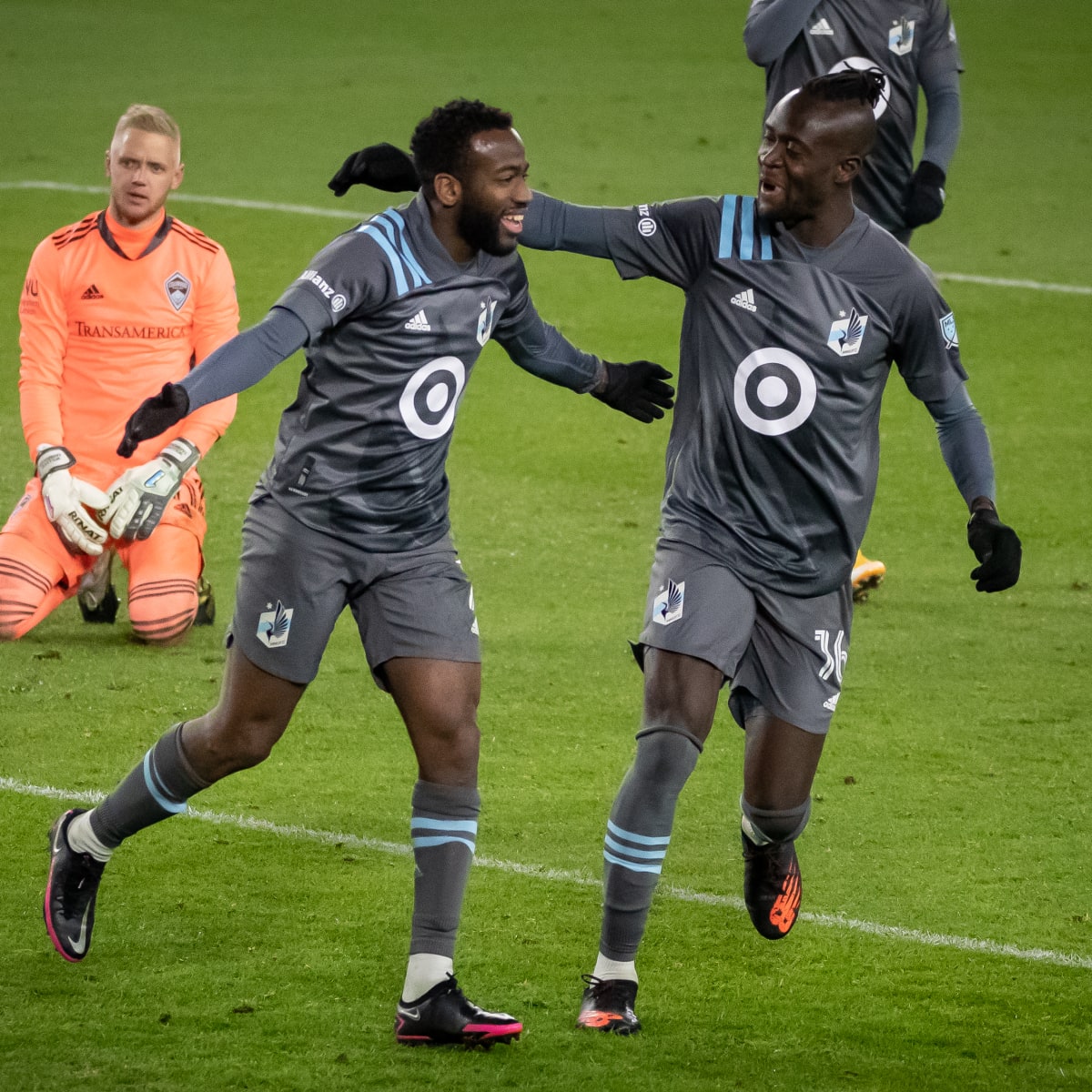 Take that, Stan Kroenke.
Two years ago, we were in Dallas for Thanksgiving. And I ate the spiciest chicken sammich I have ever eaten. It was so delicious but soooo spicy…
Thanks for the memories, Timehop.
It was just a low-key weekend with all the rain. 😀🌄🌧️🎄☕️🏈⚽️🦕🐔🔥❤️
Posted by Thadd F. on November 22, 2020
https://tplusg.com/2020/11/22/and-a-rainy-sunday-too/
Good morning from Northside…
We ran over to the grocery. They always have different balloons…
I like looking at the balloons. And then we got our Mad Llama coffee…
And we got our delicious Mad Llama bagel turkey sausage, egg and cheese breakfast sammich on an Asiago cheese bagel…
Tomorrow, they're going to start working on the water mains on our street again. I went out to move the Jetta up to the end of the street and it wouldn't start. Again. I just had a new battery put in it the last time they worked on our street. I think it's probably the alternator but we'll see. This morning, AAA came out to take it to one of their repair centers…
And there it goes. I hope it isn't too expensive.
Oscar was just hanging out…
It's Sunday. We must be going to Taft's Brewpourium for pizza…
We got to watch the crazy end of the Cowboys game…
Taft's is such great stuff. And today, they had fried mushrooms….
The sky was so pretty this evening…
And good evening from Northside…
We asked the two people standing on the hill what they were watching for, and they said the International Space Station was just about to fly over…
And suddenly, there it was…
It was just a little pinhole of light. It almost just looked a star but it was really moving quickly across the sky…
And there it went…
How neat was that? Just being in the right place at the right time.
It was a really cool way to end a great weekend…
Next week is probably going to be another crazy one. 😀🌄❤️
Posted by Thadd F. on September 20, 2020
https://tplusg.com/2020/09/20/we-saw-the-international-space-station/
This morning we woke up early to get over to Lowe's…
We wanted to get a big drum of stain for our brand new fence. It's so exciting. After we chose our stain, we headed over to Mad Llama for our Saturday morning coffee…
I bet about half of our runs to Lowe's and the grocery have just thinly veiled excuses to run across town to get Mad Llama coffee because it is so good…
When we our new fence was installed, we had them move our gate up to the street side of our side door. It gave us a little side yard space that is actually usable now. This afternoon we worked on cleaning up on newly formed little side yard space…
When they ripped up our street to replace the water main, they left a pile of the bricks on the side of our street. It turns those bricks were the original cobblestone bricks from back in the day when Beech Hill was a brick cobblestone street. We grabbed as many of those bricks as we could and stacked them by our air conditioner on the side of our house. We weren't sure what we were going to be using them for until today. We used them to line the path in our little side yard…
Good evening from Northside…
And good evening from our backyard…
With our new fence…
And our new little side yard…
😀🌄🏡❤️
Posted by Thadd F. on September 13, 2020
https://tplusg.com/2020/09/13/we-have-a-side-yard-now/
This morning we ran over to Madisonville to get some Biggby Coffee…
We got iced drinks this morning! Genifer got her Cinnamon Honey Vanilla Latte, and of course, I got my Cocoa Carmella Hot Chocolate with some butterscotch….
Mmmmm… Biggby Coffee is sooo good. And iced hot chocolate is amazing. 😀☕️❤️
Posted by Thadd F. on May 17, 2020
https://tplusg.com/2020/05/17/a-good-morning-for-biggby-coffee/
BOGO Biggby coffee makes any morning better. 😀☕️❤️
Posted by Thadd F. on April 26, 2020
https://tplusg.com/2020/04/26/hooray-for-bogo-biggby-coffee/
Guess who's back open after a brief COVID-19 hiatus? BIGGBY COFFEE! Genifer called Biggby and it turns out they reopened on Wednesday…
So this morning, we ran over to Madisonville to get some Biggby coffees…
We didn't even need to look at the menu…
Genifer got a Caramel Marvel and I got the Cocoa Carmella with a bit of butterscotch…
Biggby Coffee is so delicious. We're really happy that they're back open. We haven't had coffee from Biggby is almost a month. And that's just too long. 😀☕️❤️
Posted by Thadd F. on April 19, 2020
https://tplusg.com/2020/04/19/guess-whos-back/